In front of a crowd at the Cato Institute, a libertarian think tank in Washington, Congressman Tom Emmer expressed his disapproval of digital currencies issued by central banks.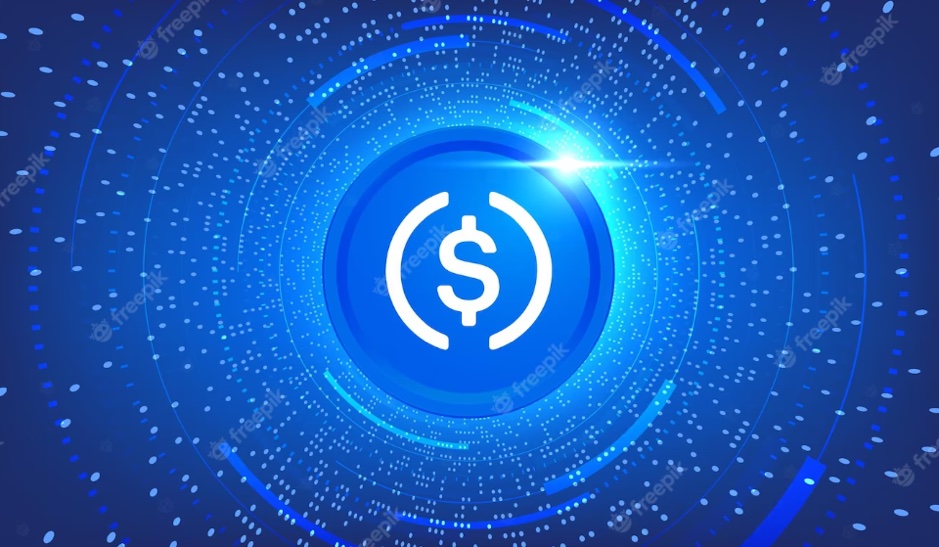 Source: www.freepik.com
After assurance from CEO Jeremy Allaire that its reserves are secure and the company has new banking partners lined up for "banking open tomorrow am," Circle's stablecoin USD Coin (USDC) is rising back to its $1 peg. The value of USDC is currently $0.99, up 3.3% over the last day, according to data from CoinGecko.
Concerns regarding the $3.3 billion in USDC reserves held at Silicon Valley Bank (SVB), which was shut down by the California Department of Financial Protection and Innovation on March 10, caused the price to fall to as low as $0.87 over the weekend. Moreover, Circle has an undisclosed sum of reserves stranded in the recently insolvent Silvergate.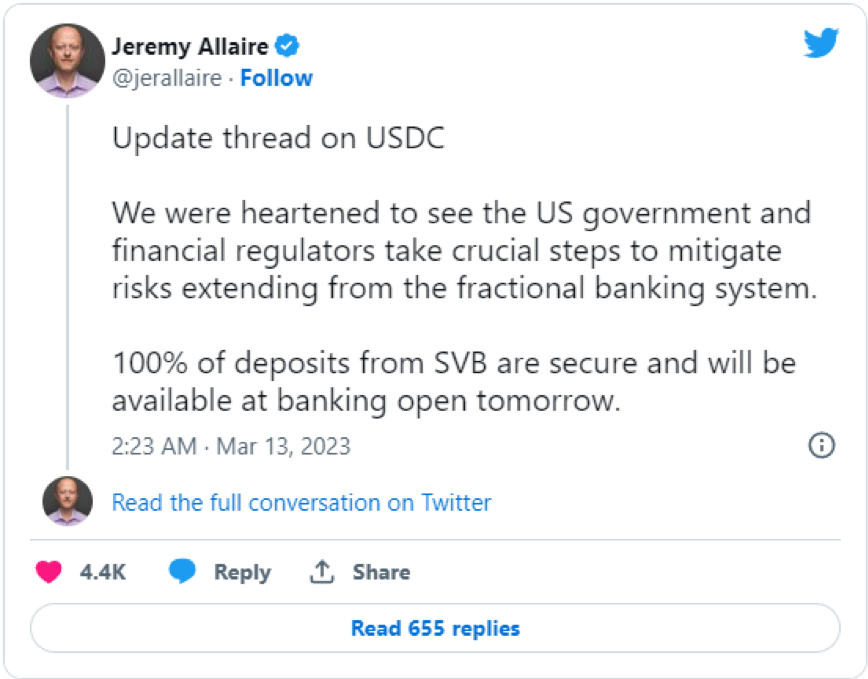 Tweet by Jemery Allaire
Allaire lauded the American government and Federal Reserve for their $25 billion funding initiative to assist banks like SVB that are experiencing liquidity issues in a post on Twitter on March 12.
According to the statement, "We will finish the transfer of the remaining SVB funds to BNY Mellon, and all USDC holdings are safe and secure." As previously stated, USDC liquidity operations will start up again tomorrow morning when banks open.
Circle was unable to manage USDC minting and redemption through SigNet following the bankruptcy of cryptocurrency-friendly Signature Bank on March 12. According to Allaire, the business would temporarily "rely on settlements through BNY Mellon." But the CEO stressed that things will move swiftly in this area because Circle would "possibly be bringing on a new transaction banking partner with automated minting and redemption tomorrow."
Allaire's remark and the Federal Reserve's comments have resulted in a huge increase in asset prices across the board, with the entire market cap of all cryptocurrencies currently above $1 trillion after falling precipitously to $961 billion on March 11.
In the last 24 hours alone, assets including Bitcoin (BTC), Ether (ETH), Cardano (ADA), Polygon (MATIC), and Solana (SOL) have increased by a whopping 10.6%, 11.4%, 12.3%, 11.7%, and 15.1%, respectively. Remarkably, this remains true despite the collapse of Signature Bank.
With the closing of Silvergate and SVB, Signature was regarded as the final crypto-friendly bank in the United States. Nevertheless, it is currently unknown what the main financial on-and-off ramps into cryptocurrency are.
Disclaimer: FameEX makes no representations on the accuracy or suitability of any official statements made by the exchange regarding the data in this area or any related financial advice.