We Saw the Robinhood Listing Skyrocket the SHIB, And What's Next?
2022-12-17 13:24:00
Robinhood APP added support for the $SHIB caused a hype on April 12, however the SHIB price is now corrected. It seems that the hype is over, but what's next? Actually, there's more.

・SHIB : THE METAVERSE
・Sophisticated SHIB Eco's System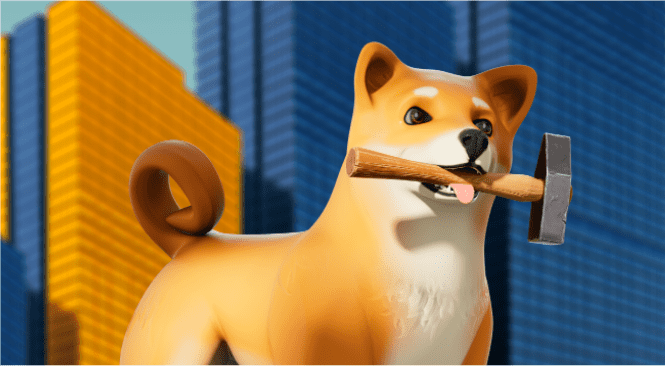 (Photo Credit: SHIB.io)

The price of meme coin Shiba Inu ($SHIB) rose by 30% on April 12 after Robinhood added support for the cryptocurrency, the highest record on the day, SHIB is trading for $0.00003000, according to CoinMarketCap data.
Robinhood also added Solana ($SOL), Polygon ($MATIC), and Compound ($COMP) on their app but not as significant as SHIB, with a market cap of $14.6 billion, it is 15th largest crypto, the best performing cryptocurrency on the day.
The Shiba Inu price is now corrected to $0.00002408 as reported. While it seems that the hype is over, so what's next?
SHIB : THE METAVERSE
On April 13, Shiba Inu ecosystem now have its own metaverse space, it is the single place where all Shiba Inu's ecosystem elements – community, tokens, game, and ShibaSwap – will come together, as developer Eric M describes it.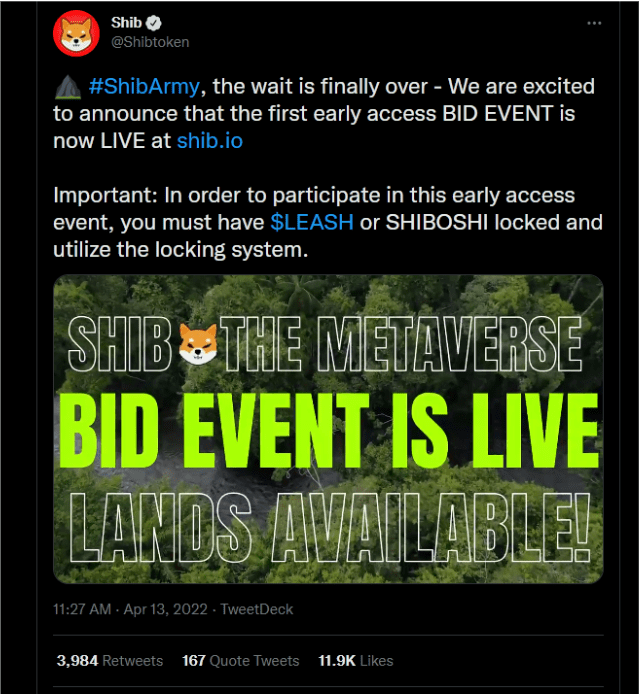 It is hosted on SHIB.io and features 100,595 plots of land that will be accessible for purchase with a $LEASH token. Surrounded by Shiba-Themed streets.
Holders of SHIBs are concerned about the circulation of SHIBs, since there are 549,063,28 billion of SHIB in circulation, which is not good for the price.
Therefore, the project team introduced multiple burning mechanisms just like the Shiboshi NFT burning mechanism they previously created, SHIB: The Metaverse land will also burn SHIB for every transaction that happens within the metaverse. In addition, Shiboshi NFT holders will have access to an exclusive Metaverse area called the Shiboshi Zone.
The project team recently explained the entire buying process for the land sale, as well as announcing an AAA studio will work on the metaverse art, go to SHIB.io if you are interested in knowing more about it.
Sophisticated SHIB Eco's System
1. $SHIB: SHIB is the major currency in this ecosystem. There is a large circulation of SHIB, however it will not increase, unlike Dogecoin with unlimited circulation.
2. $LESAH: There is only a limited number of LEASH coins available, which is used to buy land in the SHIB: The Metaverse and NFT. One might think of it as a product of various Bitcoins and Ethereum in the ecosystem.
3. $BONE: The BONE token functions as a reward to DeFi in the ecosystem, a reward to pledges, and a reward to people who stake it, providing liquidity pools. It is also a governance token to represent SHIB Eco and vote on future decisions.
4. $SHI: SHI will be the stablecoin in the entire ecosystem, similar to USDT, USDC.
5. $Ryoshi: Ryoshi is also a reward to people who stake their SHIB at the ShibaSwap DeFi.
The five tokens are tethered together and stabilize each other, so this is a really interesting altcoin, when someone questions about its utility, you can simply answer there ARE utilities.
Next time we will talk about why the ethereum whales and Turkey are leaning into SHIB.
• The latest shiba news in a bear market
- Dogecoin Led the Pack Among Cryptocurrencies in October With 17 Times Bitcoin's Gains
• Learn more about shiba :